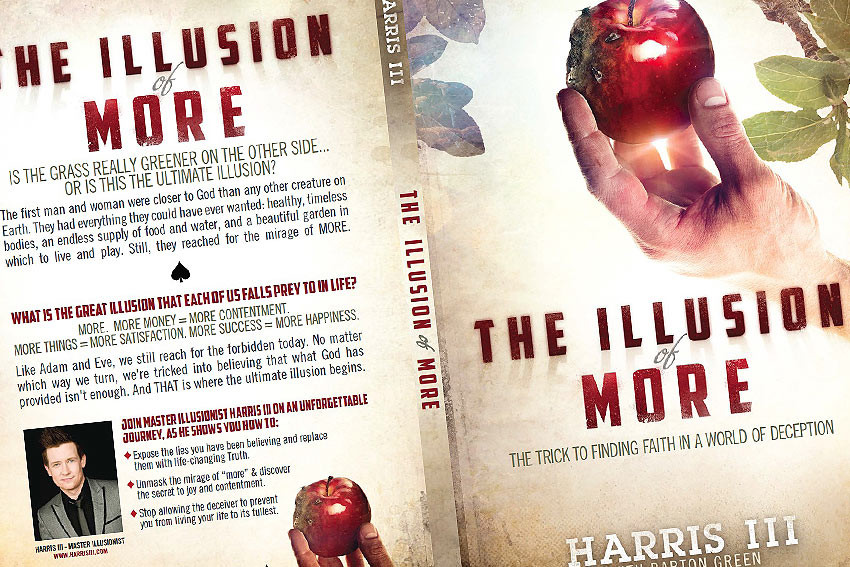 Client: Harris III, Master Illusionist
Project: Book design
Is the grass really greener on the other side…Or is this the ultimate illusion?
The first man and woman were closer to God than any other creature on Earth. They had everything they could have ever wanted: healthy, timeless bodies, an endless supply of food and water, and a beautiful garden in which to live and play. Still, they reached for the mirage of MORE. What is the great illusion that each of us falls prey to in life?
More. More money = more contentment. More things = more satisfaction. More success = more happiness. Like Adam and Eve, we still reach for the forbidden today. No matter which way we turn, we're tricked into believing that what God has provided isn't enough. And THAT is where the ultimate illusion begins.

Project Images
PROJECTS COMPLETED FOR HARRIS III
Branding/logo design
Poster design

"It's rare to find people in this business who get both marketing & design. Tenth Floor are masters of both! And when you combine those two tremendous assets with their first-class service, it makes them incredibly unique in today's marketplace. Tenth Floor's finished work always exceeds my expectations, which isn't easy to do."
Harris III
Master Illusionist