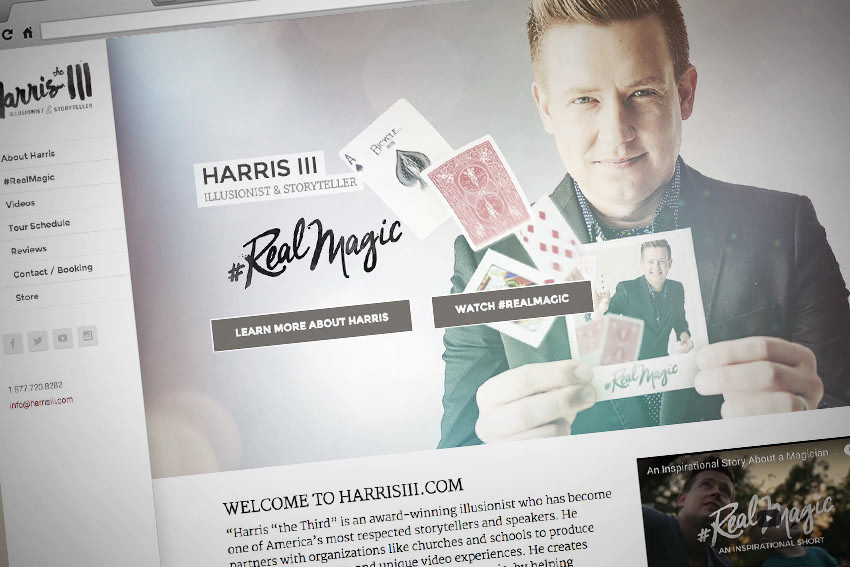 Client: Harris III, Master Illusionist
Project: Website design
Visit Website
You see the card in the illusionist's hand, but seconds later you open your own hand to find that you're holding…that same card. You watch as the illusionist cuffs and padlocks his assistant into an impenetrable wooden box, but moments later she appears from behind a curtain and unlocks the box to reveal…the illusionist. It just doesn't make sense. Or does it?
Since receiving a magic set from his grandmother at the age of 9, Harris III has been fascinated with magic, illusion and how easily the senses are deceived. He is a classicly trained, award-winning, master illusionist, and an expert in the art of deception. Harris III has performed before 1 million people in more than twelve nations on five continents where his performances not only amaze his audiences, but also awaken them to the lure of deception, the power of the senses, and the secret of living life based on deeper realities.
For Harris, magic consists of so much more than simple tricks. To him, it's about creating works of aesthetic value that create a sense of wonder. Harris is elevating the art of illusion to it's original place in the performing arts. You can forget what you know about typical illusionists—no cheesy tuxedos or cheap, colorful tubes and boxes. It is not just about what audiences see, but about what they experience. And better yet, what they feel. This is magic at its best, and truly, a creative work of art.

Project Images
PROJECTS COMPLETED FOR HARRIS III
Branding/logo design
Poster design

"It's rare to find people in this business who get both marketing & design. Tenth Floor are masters of both! And when you combine those two tremendous assets with their first-class service, it makes them incredibly unique in today's marketplace. Tenth Floor's finished work always exceeds my expectations, which isn't easy to do."
Harris III
Master Illusionist