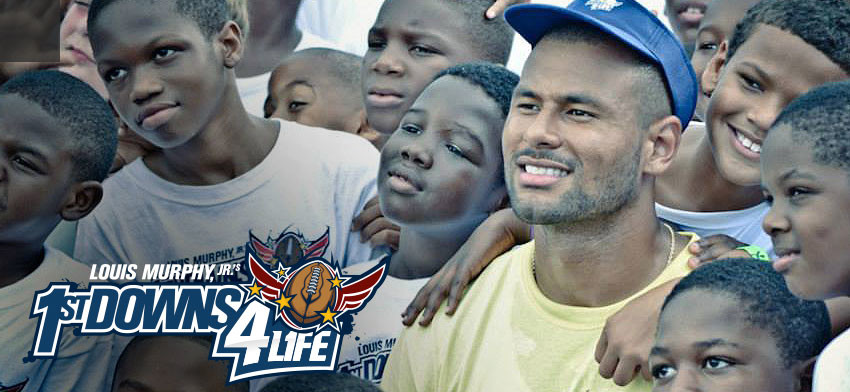 Louis Murphy Jr.'s, 1st Downs 4 Life has successful event!
When you're asked to fly down to Florida to attend Louis Murphy Jr's, 1st Downs 4 Life football camp there is only one response…YES!
It's a little known fact that I am a BIG football fan. During the NFL season our house is filled with the cheers of "Go Pack Go!" (yes we're a Packers family). This year I had the opportunity to connect with Louis Murphy Jr. of the New York Giants. Right from the start I knew he was the type of person that I wanted to give my time to. Not only is he one of the most humble guys I have ever been around but he also has a true passion for giving back to his community and helping out the younger generations to grow not only in football but also to become successful in life. One aspect of this was his non-profit organization called 1st Downs 4 Life which he started his last year of college.
With the help of his sister, Chiriga Murphy, we donated a redesign their non-profit's brand, all new promotional materials, a new website and a number of other little projects to help promote his non-profit and give back to the kids.
Normally, when giving my time to a project like this, I end up getting a few photos of the event, after the fact, because they can be run anywhere throughout North America. In this instance Louis and Chiriga wanted me to take some time off work, come down to St. Pete's and just experience the basketball game and the football camp…first hand. It was an opportunity I just couldn't pass up. I had an amazing time meeting Louis and Chiriga, hanging out with the athletes and watching the kids have a blast. When everything was said and done, we had over 450 kids attend the free event…so it was easy to say, it was a big success!
Some of the basketball game and camp celebrities and professional athletes included: Mike and Maurkice Pouncey (Miami Dolphins and Pittsburgh Steelers), Mike Mitchell (Carolina Panthers),  Josh Norman (Carolina Panthers), Deonte Thompson (Baltimore Ravens), Jacoby Ford (Oakland Raiders), Tony Carter (Denver Broncos), Jason Campbell (Cleveland Browns), Jonte Green (Detroit Lions), Winky Wright (Professional Boxer), Drew Rosenhaus (Sport Agent), Alex Smith (Comedian) and many many more.
2013 1st Downs 4 Life Event Photos