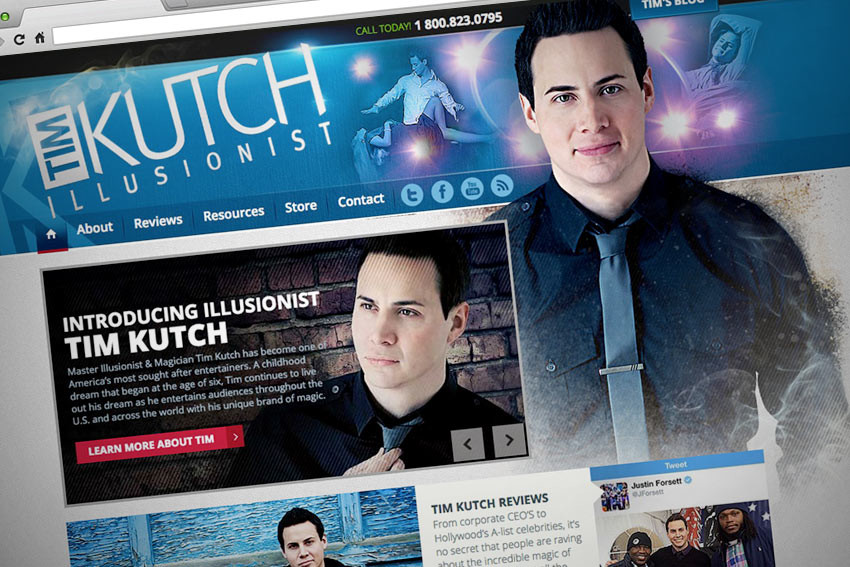 Client: Tim Kutch
Project: Website design
Tim was born in Western Pennsylvania and began performing magic at the age of six. Immediately fascinated by the art of magic, Tim would video tape and study all the magic specials that appeared on television.
At his 3rd grade talent show, Tim was chained, padlocked, & placed into the coat cupboard, from which he escaped. By age 11, he was performing for churches, lodges, and birthday parties. It was by doing as many of shows as possible at a young age that Tim honed his sleight-of-hand & showmanship skills.
At 16, Tim saw an ad for the Magi-fest magic convention held in Ohio. Accompanied by his family, Tim competed in his first competition and would meet some of the nation's top magicians. By meeting these elite magicians, Tim began to learn from the world's best and compete in national and international competitions. It was not long before he would begin to gain recognition for the multiple awards he won.

Project Images
PROJECTS COMPLETED FOR TIM KUTCH
Website design – Official Website
Branding/logo design
Poster design
Postcard design

Banner design