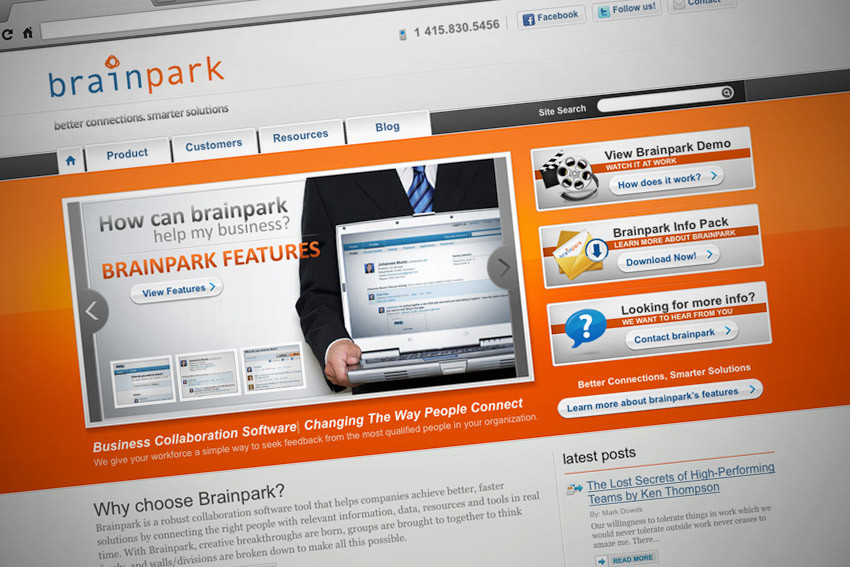 Client: Brainpark
Project: Website design
Nearly 85% of the new jobs created between 1998 and 2006 involved complex "knowledge work"- solving problems, devising strategy, and discerning patterns within information.
Making these knowledge workers efficient is the most significant business challenge of the next century. If the twentieth century was shaped by automation and mass production, the twenty-first will be defined by those who can best curate knowledge. To get there, we need to rethink the management approaches-and underlying tools-around which businesses are organized.
Brainpark is a radical new approach to management and coordination of knowledge workers. It is software that gives employees context and awareness that's relevant to the task at hand. By showing employees what others are doing – and what's been done in the past – Brainpark avoids wasted work. Rather than reinventing something that's already been done, workers find the resources that have already been created. Rather than duplicating effort, workers can find colleagues working on similar projects and pool their resources.

Project Images
PROJECTS COMPLETED FOR BRAINPARK
Website design
Collateral design
Program brand design
User interface design

"Working with Tenth Floor has been a pleasurable experience and when it comes to getting what you want on time they deliver on target. Their ability to listen and interpret words and concepts into beautiful design is second to none with first class customer care."
Mark Dowds
Co-Founder & CEO, Brainpark Inc