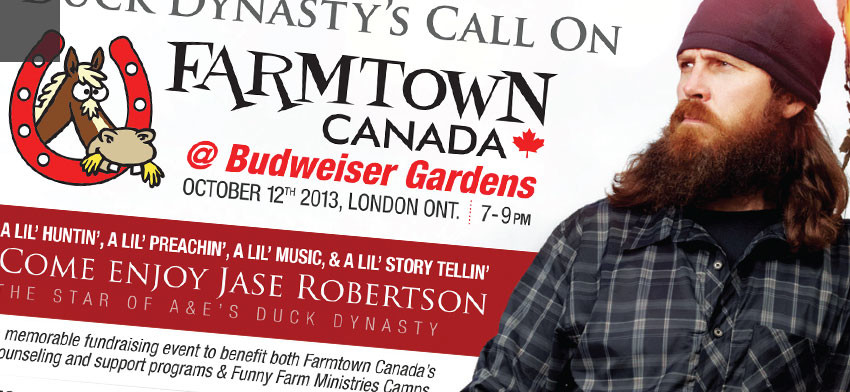 Jase Robertson visits London for Farmtown Canada event!
Jase Robertson from A&E's Duck Dynasty made call on Farmtown Canada for a fundraising event at Budweiser Gardens.
London, Ontario was all a buzz with excitement on Saturday. The news media, sports celebrities and over two thousand people attended a fundraising event put together by Farmtown Canada. Farmtown Canada's Funny Farm Ministries is a family-based Christian charity that works supporting marginalized school-aged children and youth across Elgin County.
Tenth Floor Studios had the pleasure of working with Kelly Franklin at Farmtown to help promote this event. There was A LOT of work in a short period of time…and some tight deadlines but we managed to pull it off for a great organization that helps children in our community. The evening came off without a hitch which included hanging out with other sponsors, meeting players from the Toronto Argonauts as well as Jase. It was a great opportunity to give back to a ministry that gives so much to kids. Kelly and your crew, you are amazing! Looking forward to the next event.
To learn more about Farmtown check out there website. If you want to get involved, give them a ring or donate today!
Visit the Farmtown Canada website